I was born in Rockford, in the prairie state of Illinois and raised near-by in the rural area of the small town of Oregon. Rockford had been settled by Swedish immigrants like my great grandfather who came to America in 1850 at the age of 12 from Småland, Sweden. In the days of the presidency of Abraham Lincoln, G.A. Salstrom owned and managed a grocery store that also served as the post office. As an early citizen of Rockford, he helped to start some of Rockford's first businesses and organizations such as the first Swedish Lutheran Church, the first cemetery, and first insurance company. G.A.'s brother, David B. Salstrom, designed and patented the Salstrom wood carving machine. In 1922, following his mother's death, my father, Philip, aged 10, with his brother John, aged 11, moved to Chicago. There he learned the art and business of industrial wood carving. In 1934, when Cass Gilbert was designing the US Supreme Court Building, a Salstrom Carving Machine was adapted to carve life-sized classical figures out of white oak from plaster models before the Chicago hand carvers completed the work for the spandrels in the main reading room of the library.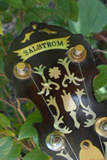 In the 1950's, my father set up his own wood carving shop near our house in the woods. A passion for craft and mechanical knowledge were driving forces that later led to another business that he owned and managed for a few years: The Salstrom Banjo Company. The Salstrom banjo was developed and crafted carefully after my father had studied the way many older banjos were made. On the back of the drum of some of the Concertones is a carved eagle. Both the neck of the banjo and the eagle were carved on the Salstrom carving machine. My father's love of craft and creative example has always been a source of inspiration to me.

Psychology and Art, two subjects not available in my small town high school were of greatest interest to me when I began college at Kent State University in Ohio. But, after 2 years there, I transferred to Pratt Institute in NYC, believing it would give me a greater chance to develop as an artist. At Pratt, my original goal was to become an interior designer, but I soon moved in a different direction. A color and design class taught by Mary Buckley in the Pratt foundation year awakened in me the possibility of becoming a fine artist and painter. I came to realize that first year that I knew nothing about art! Pratt's art history classes, taught by painters and writers on art such as Lawrence Campbell and Jane Wilson, inspired in me a thirst for learning. What I absorbed in these classes prompted me to visit New York's museums and galleries. It instilled in me a longing to travel to other parts of the world and learn from great art.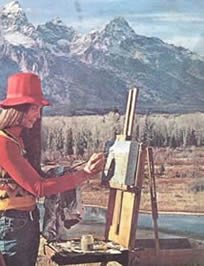 Pratt ingrained in me the importance of working from life. We worked from models, still life and interiors. Related to interior space, I began to focus on drawing, painting exterior space. Inspired by French and European landscape painters who worked from life such as Seurat and Cézanne and Corot meant being in front of the subject. At that time, many exciting contemporary American painters such as Fairfield Porter and Nell Blaine were working from life. Other influences were the great poets T.S. Eliot, Dante and Virgil. I knew I had to experience, first-hand, the art in Europe's galleries, churches and museums. By my junior year at Pratt, I had a scholarship, a loan and a job and was independent of my parent's financial support. On graduating from Pratt, 1972, I had reached the beginning of a journey of painting from life.

Both of my parents often spoke of their experiences in other lands. I could see how serving their country in World War II, both in Japan and the Philippines, had added a greater dimension to their lives and a broader sense of the world. Inspired by their experiences and with a longing to see art in Europe, I began to plan a self-funded trip to Europe to paint soon after graduation from Pratt.

I sought advice and encouragement and it came from Niki Hale, who taught the Greek and Roman art history class that I took at Pratt. She suggested Chania, Crete, Greece and the season of spring as the time of year that would be best to paint there. In the spring of 1974, after spending a month traveling through Italy visiting museums and churches, I went first to Athens and then to paint landscapes on the island of Crete in Greece for three months. Niki Hale also provided the name of an artist friend, Dorothy Andrews, who I could contact when I arrived. I discovered that Dorothy was an artist who came to Crete from New York to paint and decided never to return. Edwin Dickinson had visited Dorothy while on Crete; his lyrical approach to painting the landscape and his out-of-the-box thinking about composition has always been inspiring to me. Walking and taking busses and trains everywhere with my painting gear, I worked directly from nature. In those beginning paintings, I sensed a connection forming which united my imagination and my understanding of place and history. I was filled with ideas of composition color and light.

When I left Greece, I went to northern Illinois before returning to New York. I began to see the Illinois landscape of my youth in a new way. I began to sense classical elements in the craggy bluffs along the Rock River. The distant hills left by the glaciers in Illinois suggest mountains.




Island Chapel, Aegean Sea, Chania, Crete
oil on canvas, 10" x 12", 1974
Castle Rock, Early Morning
oil on panel, 12" x 8"


Rock River Valley, Evening Light
oil on canvas, 12" x 14"
Wagnerian Forest, IL
oil on canvas, 12" x 14"
The great oaks of the Illinois forest give an upward sense of infinite space. This was different from the groves of olive trees of Crete. On Crete the mountains were always near by as was the vast Mediterranean sea. In Illinois there was the wide open space of the prairie and forest and the meandering, narrow Rock River.
Upon returning to New York I was determined to pursue further studies. I chose the Art Students' League because I was familiar with the school as I had earlier taken an anatomy class with Robert Beverly Hale. I enrolled in an evening painting class with Gabriel Laderman. At the same time, I was very fortunate to be hired as a gallery assistant at the Robert Schoelkopf Gallery. It was possible to learn much about contemporary painters and earlier American sculpture and painting while working at the Schoelkopf Gallery as well as to learn about the business of gallery operations in a gallery highly respected in the art world.
A year later, mid-year, I was accepted into the MFA program at Brooklyn College, where it was possible to work days at the gallery and attend MFA classes in the evenings. In the summer when the gallery was closed, I was able to paint landscapes in Illinois. The summer following the first full year at Brooklyn I painted at Skowhegan School of Painting and Sculpture in Maine for 9 weeks. Bill Midgette at Skowhegan influenced my perception of space and my palette changed. I began to mix color chords, and fell in love with cadmium yellow. Later, at Brooklyn College, my thesis explored finding relationships between colors and music. As a student of Lennart Anderson and Joseph Groell, I had become interested in exploring new ideas of composition, still life and interior space. The MFA reviews that we experienced at Brooklyn College allowed us to interact with the entire faculty which included Philip Pearlstein and Lois Dodd. Hearing the often encouraging comments and criticisms of the faculty at these reviews was a highlight of each semester. Every summer since those formative years, the focus for me has been the color and space of landscape. The movement of light, air and water are important elements of the landscape. Returning to the same place over and over again, I never quite build the space on the canvas the same way.
Photo:
Brooklyn Botanical Gardens
The summer following graduation from Brooklyn,1978, I had the opportunity to experience painting mountains and the river valley of Languedoc in the South of France. I saw and painted the ancient ruins of the Pont du Gard and the Maison Carrée. It never ceases to amaze me how fragments and compositions that are visible in the observed landscape always manage to stimulate my imagination and memory reminding me of other places I have seen or read about.

| | |
| --- | --- |
| | Languedoc |
| Pont du Gard oil on panel, 7" x 5" | |




Painting at Castle Rock

Photo: Judy Pemberton

Castle Rock at Dawn oil on canvas, 12" x 14"
Following graduation from Brooklyn College, I taught for two years at Saint John's University while I continued to work for the Schoelfkopf Gallery on Saturdays. Robert Schoelkopf had talked to me about how the earliest galleries had formed in the 1860s in France and thus the gallery, as a space available to the public for viewing art is not that old. I later read in John Rewald's book on Impressionism how the Impressionists had wanted to start their own gallery but they lived too far apart to do it. The Prince Street Gallery is a New York gallery organized and managed by artists for the purpose of showing their work. Prince Street (now 46 years old) was then in its 13th year when I had my first solo show. As a non-profit gallery, the artists have a different freedom from artists in commercial galleries but also must bear the responsibility of the expense and work of running the gallery. After joining the gallery, I began the yearly pattern of traveling to Illinois with my husband, Brent Porter and daughter, Christina, each summer to paint the Illinois landscape. I exhibited at Prince Street Gallery in NYC. When an opportunity to show in Illinois became available through the Arts Alliance, I also organized a show at the Oregon Public Library and Art Gallery. The 19th-century Carnegie Library in Oregon, Illinois was built with a gallery on the second floor that gives space to a permanent collection of Chicago Artists 1888-1942. Throughout the years since those first shows, I have exhibited regularly in New York and Illinois.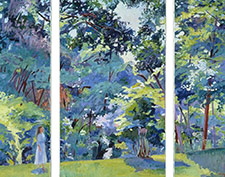 Muse and Forest Light, Ganymede II
oil on canvas, triptych, 48" x 56"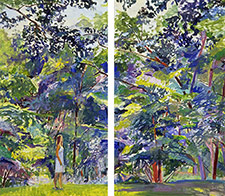 Muse and Forest Light, Ganymede III
50" x 56" diptych
The Illinois forest inspired several more large paintings with the title: Muse and Forest Light. Christina, my daughter represents the muse in these paintings. The light filled foliage of the forest represents the experience of a space that is infinite in that its boundaries can not be seen. The large triptych was painted in 1996 and the diptych in 2000. The presence of the muse invites contemplation in its most joyful sense. This window to eternity later took on a new meaning for me:

In 2004, while a student at Dartmouth College, Christina had a tragic skiing accident. Following a year of hospitalization from traumatic brain injury, she died in January 2005 at the age of 21. In the sparkling hues and textures of the leaves I can still hear her beautiful voice.

In part because of the great emptiness felt by Christina's death, and to celebrate the joy in the years spent with her, I began to seek deeper connections with living family members, including my nephew, James who has become the figure in several Illinois paintings. The distant family of our Swedish ancestors was also of great interest to me. It seemed to me that some connection might be made to them through landscape paintings of the place where they once lived.

Christina in the River Meadow
oil on canvas, 32" x 36"
James Reading at Stronghold Castle
oil on panel, 13" x 18"
James and Skateboard
oil on panel, 9" x 12"
The theme of my recent work is to exhibit paintings made in Sweden in the land of my ancestors along with the Illinois landscapes. With the company of my architect husband, Brent Porter, who draws and studies the local history while I am working, I am painting from life in the Swedish landscape. The place in Illinois where my landscapes have been painted is the same place where more than a million Swedes, such as my great grandparents, settled when they came to America beginning in 1850. By traveling to their homeland, a dream was fulfilled. At Hultet, Tranås, in Småland, we were able to experience village architecture of houses and interiors including a small work shop reminding me of my father's larger shop; except this shop employed only hand tools for making violins in the early 19th Century. We saw the family farm at Gissnabo and saw the site of the earlier Tranås grist mill as well as Säby Church. While many Swedish painters working from life went to Italy or France to paint instead of painting their own native landscape, I have found the long days and white nights of the Swedish summer ideal for a painter's light. However, small intermittent rain showers interrupt my usual three-hour long sessions of painting, an advantage I exploit while working in the dryer Illinois summers. With the summer rain showers of Sweden come moving clouds and a beauty of clear air and color that one might not experience in the drier Illinois summers. At Prins Eugene's Museum, Waldemasudde, Stockholm, we saw a wonderful collection of Swedish paintings by 19th Century artists of Sweden. The paintings of Prins Eugene, Anders Zorn, Carl Larson and August Strindberg are noted works in this museum that reflect the spirit of Sweden. For me, working in both the Illinois setting and the Swedish homeland, it is possible to sense a kind of beauty that feels like home, perhaps similar to that I experienced viewing the work of these Swedish painters.

| | |
| --- | --- |
| | |
| Jarrett Prairie, Illinois 12" x 12" | Overlook, Lake Sommen, Jönköping, Småland |

For almost 40 years, I have been painting landscapes from life in the state of Illinois during summertime. I like to think that like Cézanne who returned in the summer to Aix-en-Provence, I return to Oregon, Illinois, the familiar place of my youth each year often painting the same places again and again. The choice of place is guided by perception, memory and imagination. I sometimes include figures to give a sense of scale and a sense of place. Barns and other forms of architecture often become focal points. One painting leads to the next and sometimes to larger paintings for which I use two or three landscape easels. I especially love the prairie with its wildflowers, and the joy of watching the light and reflection on the Rock River. On a hot day, the refraction and absorption of light in tall verdant forests of oak trees is an inspiring space to work. Long walks help me to find the places of most interest. I occasionally complete a painting on the first day; more often I return over and over completely re-painting certain areas. Finding a composition that surprises or somehow conveys the beauty of discovery and finding colors that sing are most important.


Painting at Nachusa Grasslands, Illinois


Photo: Lois Salstrom Chertow